Placement Services for USCJ Congregations
The NAASE-USCJ Joint Commission for the Placement of Synagogue Executives is a cooperative effort by the North American Association of Synagogue Executives (NAASE) and the United Synagogue of Conservative Judaism (USCJ), and is the official and only placement agency for Conservative synagogues.
Experienced members of the Placement Commission are available to speak with congregational search commitee representatives to discuss the development of the search process, the structuring and evaluation of the executive position, and the planning of an effective interview process. There is no cost to the USCJ-affiliated congregation for this service.
Congregations wishing to arrange for a placement consultation, or to list available positions for Executive Directors, or for more information about the process, may contact the Placement Commission through the NAASE office at (215) 872-2007, or by e-mail.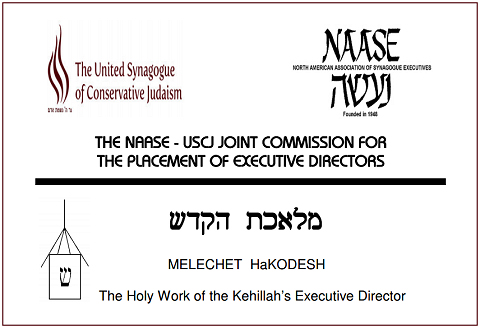 Be sure to ask about the booklet entitled Melechet HaKodesh and other valuable resource materials designed for the Search Committee at every stage of its deliberations.