Executive Director
The North American Association of Synagogue Executives serves synagogue administrators throughout the United States and Canada along with regions elsewhere in the world. As a volunteer professional organization, the elected leadership is dispersed throughout the catchment areas of the Association reflecting the diverse geographic nature of the membership itself. Committees meet locally and nationally, and the central leadership convenes three times annually to establish and review policy matters. Information is made available by mail, telephone and electronic means in ever-increasing quantity and diversity. With the growth of the membership and programmatic services, came a need to centralize the Association's administrative functioning.
In 1997, the Board of Governors took its first formal step in its centralization plans, with the establishment of the office of an Executive Secretary. In that capacity, Ms. Marilyn Zirl, FSA, initiated the first procedures for centralizing the delivery of services and information to the membership. In July 1999, the United Synagogue of Conservative Judaism made office space available to NAASE in its historic Rapaport House, giving the Association a permanent central location for the first time in its five decade history. In August of that year, the Board of Governors established its first Executive Director, to serve in a part-time capacity.
Subsequently, NAASE hired Harry Hauser, as its Executive Director. Harry brought forty-plus years of diverse experience in the field of synagogue management. He served NAASE with expertise and love for the organization for 22 years until his retirement in June of 2021.
Susan Z. Kasper, FSA is honored to be NAASE's current Executive Director and to play a role in shaping the association's future. Susan was affiliated with Tiferet Bet Israel for over 20 years. Her professional relationship began in 1999 when Susan was TBI's Preschool Director. Susan remained deeply connected to the TBI community when her career took an alternate turn as she became the Director of Har Zion Temple's Preschool in 2000. In January of 2004 an amazing opportunity presented itself and Susan returned to TBI's professional team as the Executive Director. Concurrent with that, Susan became active in NAASE. A graduate of Hunter College with a dual Bachelor's in Statistical Mathematics and Early Childhood Education and a Masters Degree from Herbert H. Lehman College in Early Childhood Education, she brought the rich history of a thirty year career as a synagogue volunteer and professional.
While at Tiferet Bet Israel, Susan played a major leadership role in overarching visioning and support, strategic planning, relationship building, development initiatives, transitioning a Cantor and two Rabbis, and most recently was instrumental in the reopening of TBI's Leonard and Madlyn Abramson Early Childhood Education Community. Although Susan recently retired as TBI's Executive Director, she remains active by being a member of both the Rabbi Search and Visioning Committees.
In March of 2021, Susan stepped down as Honorary President of NAASE. She was privileged to be President of our distinguished association from 2017-2019. Previously, she was Senior Vice President drawing from her rich history as a member of the Board of Governors of NAASE, focusing on the membership, conferences and strategic planning. Prior to that Susan was President of the Delaware Valley Association of Synagogue Administrators (DVASA). At the Houston NAASE Conference in 2010 she was recognized as a Fellow in Synagogue Administration, and in May of that year she was honored by United Synagogue of Conservative Judaism with the Ateret Kavod award. Susan was honored to have been selected in 2020 to deliver the ninteenth annual Irma Lee Ettinger Memorial Lecture at the NAASE's international conference. This lecture was delivered at the conference in Charlotte, North Carolina in 2022, the first conference to return in person following the pandemic.
On January 19, 2021 Susan was recognized by Whitpain Township, PA. for her dedication and relationship to the greater community.
Susan was married to Mark Strumwasser, z"l, and their combined family blesses her with seven children, two grandsons and four granddaughters.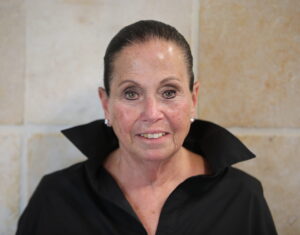 The office of the Executive Director may be reached by telephone at (215) 872-2007 or by e-mail at office@naase.org.