Available Ritual Items

Available Prayer Books and Other Ritual Items
Updated July, 2022
On occasion, congregations replace large quantities of siddurim, machzorim and/or chumashim and are happy to make their no-longer needed seforim and other ritual items available to others at minimal or no cost, usually asking the recipient congregations simply to arrange for pick-up or bear the shipping costs. Given the dynamic nature of such "transactions", while this list is updated frequently, no assurance of availability, condition or quantity can be offered, with NAASE and USCJ serving simply as the announcement conduit for the information, as we receive it from the participating kehillot.
Please contact the individual named below directly to inquire about availability, condition, age, edition, shipping options and . . . .
Where SC is indicated in the Cost column, there is no cost other than actual shipping costs.
To list the availability of any such items, or to remove a listing once it no longer is active, please write to office@naase.org. We thank the listing congregations and their respective executives and other leaders for their generosity and their courtesies.
A note about searchability . . to search for anything on this list using your browser, type CONTROL – F and a small dialogue box will open, allowing you to search for any term or geographic location.
Available Items
Donor Congregation / Contact
Item
Quantity
Cost
Available
Congregation Nishmat Am
Plano, TX Dani Haley
Mahzor Hadash
500
SC
12/22
Beth Shalom Congregation
Columbia, MD Jessica Schultz
Siddur Sim Shalom For Shabbat and Festivals
165
SC
07/22
Congregation Or Tzion
Scottsdale, AZcongregation@ortzion.org
Machzor Hadash
1000
SC
06/21
Glen Rock Jewish Center
Glen Rock, NJ
Michelle Strassberg
office@grjc.org
Machzor Hadash
250
SC
09/20
Temple Beth Tzedek
Amherst, NY
Dr. Laurence Boxer
Office@BTZBuffalo.org
Siddur Sim Shalom (1985 ed)
300
SC
07/20
Institute for Judaic Studies and Services
Tucson, AZ
Samuel Horowitz
michelsonhorowitz@gmail.com
Likrat Shabbat
128
SC
02/20
Congregation Beth Shalom
Napa Valley, CA
Margaret Tractenberg
Office@CBSNapa.org
Gates of Repentance Machzor (1978 ed)
200
SC
09/19
Temple Sinai – Oakland
Oakland, CA
Terrie Goren
Terrie@OaklandSinai.org
Gates of Repentance Machzor (1978 ed)
1000
SC
09/19
Beth Abraham Congregation
Zanesville, OH
Art Rogovin
art@usbridge.com
Harlow Machzor
128
SC
09/19
Temple Avodat Shalom
River Edge, NJ
Barbara Herman-Hoff
Director@AvodatShalom.net
New Union Prayer Book: Days of Awe
920
SC
09/19
Temple Beth Israel
Longboat Key, FL
Isaac Azerad
IAzerad@TBI-LBK.org
Gates of Repentance Machzor
400
SC
08/19
Chavura
Dayton, OH
Henry Stern
HGStern@gmail.com
Hertz Chumash
40
SC
04/19
Temple Emanuel
Newton, MA
Sarah Bowlby
SBowlby@TempleEmanuel.com
Rabbinical Assembly Machzor
1150
SC
11/18
Congregation Shaarey Zedek
Winnipeg, MB
Ian Staniloff
Ian@SZWinnipeg.ca
Harlow Machzor (2nd Edition)
(With Congregation Shaarey Zedek imprinted on front cover)
1500
SC
10/18
Neve Shalom
Metuchen, NJ
Marge Wise
Director@NeveShalom.net
Siddur Sim Shalom
150
SC
07/18
Congregation Har Shalom
Potomac, MD
Carly Litwok
carly@harshalom.org
Siddur Shir Chadash (Youth and Family)
35
SC
07/18
Marlboro Jewish Center
Marlboro, NJ
Cantor Wayne Krieger
CantorKrieger@MJCNJ.com
Machzor Chadash
1500
SC
05/18
Congregation Ner Tamid
San Fransisco, CA
Adele Shafer
Admin@NerTamidSF.org
Silverman Machzor
Rabbinical Assembly Machzor
76
86
SC
08/17
West End Synagogue
Nashville, TN
Marcia Stewart
MStewart@WestEndSynagogue.org
Machzor Chadash
600
SC
08/17
Congregation Anshai Torah
Plano, TX
Harvey Swento
Harvey.Swento@AnshaiTorah.org
New Mahzor for RH/YK (1998, Greenberg/Levine)
500
SC
01/19
Am Hayam Havurah
Cape Cod, MA
Rebecca Holmes
RebeccaBHolmes@comcast.net
Gates of Repentance
300
SC
05/17
Congregation of Moses
Kalamazoo, MI
Michelle Angel
MHAngel1961@gmail.com
Siddur Sim Shalom
Machzor Chadash
175
250
SC
04/19
Congregation Etz Chaim
Marietta, GA
Bob Bachrach
RBachrach@EtzChaim.org
Siddur Sim Shalom
50
SC
03/17
Beth Jacob Congregation
Redwood City, CA
Gary Geller
GGeller@BethJacobRWC.org
Tiku Shofar (USCJ)
250
SC
05/17
Tifereth Israel Congregation
New Bedford, MA
Gershon Levine
GLevine@tinewbedford.org
Siddur Sim Shalom
300
SC
05/17
Temple Israel of Sharon
Sharon, MA
Karen Nahary
knahary@tisharon.org
Silverman Machzor
800
SC
01/19
Anshe Emet Synagogue
Chicago, IL
Naomi Richman
nrichman@ansheemet.org
Siddur Hadash
Harlow Machzor
Gates of Prayer
Sh'ma Koleinu
P'nei Shabbat Family Siddur
Russian Haggadot (RA Edition)
Selichot Booklets
500
75
17
50
33
50
100
SC
12/17
Beth Sholom Congregation
Frederick, MD
Marcia Newfeld, FSA
mnewfeld@bethsholomfrederick.org
Eit Ratzon Siddur
Art Scroll Machzor
(Sukkot, Pesach, Shavuot)
40
40 each
SC
12/17
* LP refers to volumes that are Large Print editions.
Several Unusual Opportunities for the Acquisition of Bimah Furnishings, Memorial Panels and Torah Scrolls
Beth David Synagogue in Greensboro, NC has completed its newly refurbished Sanctuary. Our colleague Corie Hampton is making several furnishings available at no cost for an institution that can arrange for pickup or shipping.



Specifically, one pair of Arc doors (78"W x120"H) and two pairs of matching Rabbi's podium and Reader's table (the second of the Reader's tables is not shown in the photo above.) Specific information about all of these items is available from Corie by e-mail.
__________
Our colleague Noah Levine of the Jewish Community Legacy Project expedites the sale and gifting of a variety of ritual items from congregations that are closing or are merging. Currently, his office is expediting the sale of a Torah in Pennsylvania and two Torahs in New York. In addition, a congregation in Rocky Mount, NC is looking for their Sanctuary items shown in the photo below, to be adopted by a synagogue or other Jewish institution. Please contact Noah Levine for more information.
__________
Jamie Isaacson of the now-closed Beth Abraham Synagogue in Auburn, ME has been charged with selling the congregation's three Torahs and a Haftorah scroll (see photo below), with the proceeds going to the synagogue's Cemetery Perpetual Care Endowment Fund. Photos and specific information about all of these scrolls can be viewed here. You can e-mail Jamie for any additional information.

__________
Sadly, Congregation B'nai Torah in Highland Park, IL has closed after 60 years. But they are hoping to find a good home for their Ark, Ner Tamid, Menorah, and Twin Menorah Podia. (See the photos below.) Please contact Hillel Singer for more information at Hillel@konik.com.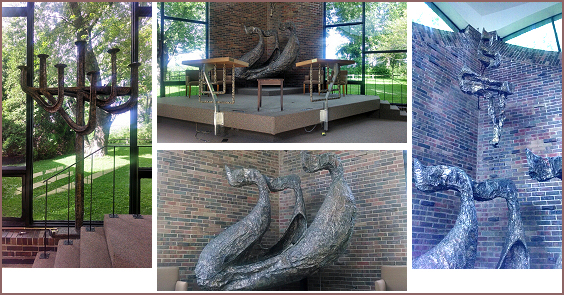 The Ark: 8 feet wide x 8 feet tall x 3 feet deep
The Ner Tamid: 3-4 feet wide x 5-6 feet tall x 1 foot deep
The Menorah: 5 feet wide x 8 feet tall x 1 foot deep
The Menorah Podia: 4 feet wide x 3 feet tall (5 feet with stand)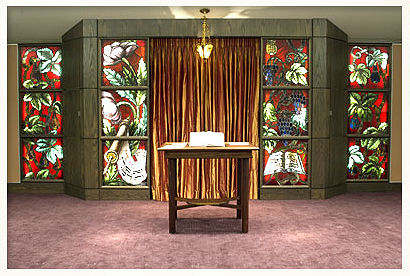 __________
In Ohio, a longtime synagogue with a history that dates back to the 1890's, is finally closing. A host of items are available for adoption from Beth Abraham Congregation in Zanesville, OH. Please contact Steve Edelstein for more information.